December 3, 2023 Announcements…
Monday – Friday  6pm Online Evening Prayer. (link at www.calvarydc.net)
Wednesday Noon Bible Study(link at www.calvarydc.net)
Sunday
9am Morning Prayer (link at www.calvarydc.net)
10am In-Person Holy Eucharist
Calvary Black Arts Festival, Saturday. December 9th, 12pm-5pm,  Come by the Parish Hall to peruse the work of local Black Artists, and maybe pick up an unique Christmas gift!
Annual Parish Meeting, Sunday, December 10th, 12pm. All members are asked to attend. Details have been sent our in a par- ish mailing.
Holiday Services
We invite you to celebrate the Christmas Season with us:
Sunday, December 17th:
10am – Children's Service
3pm – Joint Lessons and Carols @ St. George's Episcopal Church
Sunday, December 24th:  10am Christmas Eve Worship
Sunday, December 31st; 10am Watchnight Worship
The beautiful poinsettia plants are now available to order.  The cost is $23.00 and includes 3 plants in each pot.  Contact Eleanor Hill to reserve your plan.  Make check payable to Calvary Episcopal Church and send to Eleanor Hill at 801 17th Street S.E. Washington, DC 20003.  You may also give it to her at church.  Cash is also accptable.  The florist needs a count by December 3rd.
For anyone who would like to put flowers on the altar in memory of loved ones, to congratulate graduates, acknowledge birthdays or other occasions. Please contact Eleanor Hill at 202-547-5780 with the date you are interested in.
The Union of Black Episcopalians is Accepting Membership Applications. Annual dues are $50, for those 60 and under, and $35 for retirees and those over 60. Checks can be made out to "Crummell-Cooper Chapter, UBE" and mailed to William H. Byrd, Treasurer, 5711 16th St NW, Washington, DC, 20011. Applications are available on the vergers table at the rear of the Church.
The Rev. Gayle Fisher-Stewart has resumed leading Wednesday online Bible study, at noon. We are studying the apocryphal books, beginning with Tobit.
Calvary's Choirs have resumed rehearsals, before services at 9:15am, in the parish hall. All members are invited to attend, no knowledge of reading music is required:
1st Sunday-Contemporary Choir
2nd Sunday-Parish Choir
3rd Sunday-Men's Choir
4th Sunday-Parish Choir
5th Sunday-Combined Choirs

Calvary's Vestry
Ken Davis (Senior Warden, '23)
Dianne Slaughter (Junior Warden, '23)
Phyllis Harris (Christian Education, '23)
C. Michael Livingston (Finance '24, Legal '24, Personnel '23)
Monai Lowe (Evangelism, '25)
Edna Martin (Worship and Music, '24)
Michael Sherman (Stewardship, '24)
Gwen Turner (Communications, '23)
DeVonde Wiggins (Pastoral Care, '23)
The Now and Forever Windows at Washington National Cathedral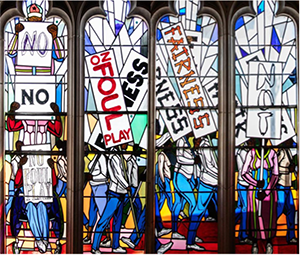 The Cathedral's Now and Forever Windows were officially installed and consecrated
on Saturday, September 23rd, 2023. They can be viewed, in person, any weekday.
The windows were commissioned to replace the shameful windows honoring
Confederate generals Robert E. Lee and Thomas "Stonewall" Jackson. Those windows were ultimately removed in 2017, in response to tireless pressure from The Revs. Robert Hunter and Vince Harris, and ongoing lobbying from the Union of Black Episcopalians in this Diocese.
The windows were designed by noted Black artist Kerry James Marshall and are
intended to capture the resilience, faith and endurance of African Americans and
our nation's struggle with the original sins of racism and slavery.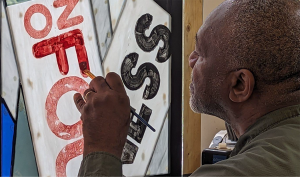 The following poem "American Song, was written by Dr. Elizabeth Alexander, and will be inscribed in stone beneath the windows:
Imperfect in struggle, contested more than one voice at a time. Onward, multi- American song, American psalm
A single voice raised, then another. We must tell the truth about our history.
How did we get her and where do we go?
Walk toward freedom. Work toward freedom. Believe in beloved community.
We are not yet close enough to heaven.
Aspire to song. Aspire to the lift of voices raised to make a mighty noise.
What are the luminous words.
Courage, evolve, freedom, community, truth, trust, love, peace, yes, why, agape.
American song, American prayer.
All of our voices combined into song. Sing sacred words, true and just.
May this portal be where the light comes in.
.
Discipleship discussion group and Bible Study for young adults, every Wednesday evening at 7PM
Interested young adults should contact us at info@calvaryd.net.